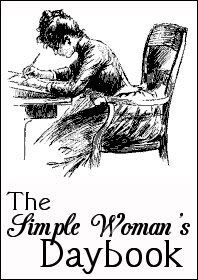 FOR TODAY...
Yom Sheni, the 17th day of the 4th month
Outside My Window...
the big kittens are playing and scampering about.
I am thinking...
of how much I'm already enjoying the book I just started reading--'The Other Side of the Sun' by Madeleine L'Engle.
I am thankful for...
being able to have a nice long conversation with my 25-year-old son a couple days ago.
From the kitchen...
This week's dinners:
Southwestern Chicken*
Crockpot Roast
Chicken Soup in a Pot*
Beef Stew*
Steak with Pizza Potatoes*
Super Easy Chicken*
Beans and Cheeseburger Macaroni
(*these recipes are from 'Fix-It and Forget-It Lightly' by Phyllis Pellman Good)
I am wearing...
a purple skirt and top.
I am creating...
a crocheted baby headband to go with the Tulip Time dress and booties.
I am going...
nowhere today, but will probably be doing the usual shopping and errands on Preparation Day later in the week.
I am reading...
for the Fast of the Fourth Month:
Zekaryah (Zechariah) 8:19-23
Shemot (Exodus) 32:11-14, 34:1-10
Yeshayahu (Isaiah) 55:6-56:8
The Scriptures in Chronological Order:
Yirmeyahu (Jeremiah) 19, 20, 25, 26, 35, 36, 45-49
Dibre HaYamim Bet (2 Chronicles) 36:1-4
Habaqquq (Habakkuk)
Dani'el (Daniel) 1
Parashat Matot (tribes):
Torah--Bemidbar (Numbers) 30:1-32:42
Haftarah--Yirmeyahu (Jeremiah) 1:1-2:3
Ketuvim Netzarim--Mattithyahu (Matthew) 5:33-37; Acts 9:1-22
'Restoration' by D. Thomas Lancaster
'The Other Side of the Sun' by Madeleine L'
Engle
'Pride and Prejudice' by Jane Austen (listening to it on CraftLit)
I am hoping...
that I can finish reading 'The Other Side of the Sun' before it's due back at the library.
I am hearing...
my youngest tattling on his older siblings.
Around the house...
I need to take inventory of the kids' clothes to see what they need before school starts.
One of my favorite things...
is taking a nice relaxing bath.
A Few Plans For The Rest Of The Week:
RSVP to an invitation.
Return phone calls from family and friends.

Here is a picture thought I am sharing...
If you would like to participate in The Simple Woman's Daybook, visit Peggy's blog, The Simple Woman, and read the guidelines here.