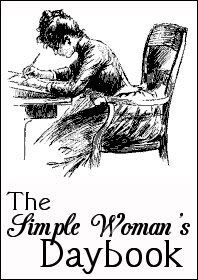 FOR TODAY...
Yom Sheni, the 19th day of the 3rd month

Outside My Window...
the wind is blowing mildly, and it is nice and sunny.

I am thinking...
that I wish I had gotten a little more sleep.

I am thankful for...
Husband's provision for us.
From the kitchen...
This week's dinners:
Ground Turkey Soup*
Steak with Garlicky Potatoes*
"Baked" Chicken*
Succulent Steak*
Steak with Mustard Potatoes*
Burgundy Beef Roast
Cheeseburger Macaroni
(*these recipes are from 'Fix-It and Forget-It Lightly' by Phyllis Pellman Good.)
I am wearing...
a hastily thrown-on housedress, pink and black (had to hurry and get Husband's statements printed off before he left for work).
I am creating...
an account card template for Husband and The Great American Afghan for my youngest son.
I am going...
to the library tomorrow to hopefully pick up the book I requested last week--'Middlesex' by Jeffrey Eugenides--which is the current selection for the Ravelry Book Club.
I am reading...
Yeshayahu (Isaiah) 14-37.
Korach--
Torah: Bemidbar (Numbers) 16:1-18:32.
Haftarah: Shemuel Alef (1 Samuel) 11:14-12:22.
Ketuvim Netzarim: Acts 1:1-11; Romans 13:1-7.
'Knit One, Kill Two' by Maggie Sefton

I am hoping...
that Husband will have a better day at work than he did last week.
I am hearing...
our new dog, Buddy, barking. I think he's being taught to 'speak' by the kids.

Around the house...
I want to dejunk and organize, so I think I'll start from the front door and work my way around the house counterclockwise, spending at least 15 minutes a day on it.

One of my favorite things...
is my children's smiles.
A Few Plans For The Rest Of The Week:
Call Mom and see how she's doing.
Call my oldest daughter to wish her a happy birthday.
Call my friend who's been concerned about me.
Deal with all the medical bills and receipts.
Organize my project bags.
Finish the Priscilla Gibson-Roberts square for The Great American Afghan, or at least get one of the little socks finished.
Write up and post the pattern for the afghan square I designed to represent the book, Here Be Dragons.

Here is a picture thought I am sharing...
Template Creation
If you would like to participate in The Simple Woman's Daybook, visit Peggy's blog, The Simple Woman, and then read the guidelines here.